I got my wigs yesterday!!

(click here, and here, and here if you don't know what I'm talking about)

  Here's what I finally ended up purchasing:
OUTRE SYNTHETIC HALF WIG QUICK WEAVE TAMMY – $17.99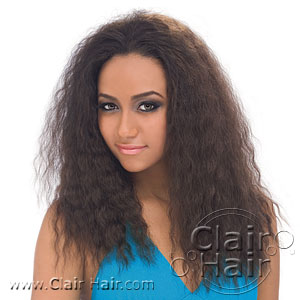 Click photo to link to clairhair.com page
GLANCE SYNTHETIC COCKTAIL WIG MALIBU TWIST – $17.99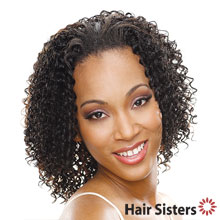 Click photo to link to hairsisters.com page
and I am SUPER EXCITED at first glance (pun intended

 ). 
I started a video for each of them and will finish each video as I actually wear the wig.  In a past life (as I've said before) I was a queen of the wig, a lover of the hairstyle switch-up and generally had a box/drawer full of fake (straight) hair.  Now I'm learning a lot about blending and it's really exciting to me.  
Things I've learned are:
Research the wig before you purchase.
Read the comments on several wig sites and look at or ask for photos. Also Youtube is a great resource as many wigs have 1 or more reviews already out there.  You can learn everything from how many combs are in the wig, the length and placement of the combs, if there's a drawstring, how the wig recovers after washing, if the cap runs small or big, if the hair feels stiff or soft and even ideas on how to rock different styles. 

The wig does not always look like the photo on the package, and that's ok. 
This is why you need to research.  Many times the wig looks NOTHING like the photo on the package (especially fuller wigs it seems) and you need a real life example to go by. 

You do not have to wear the wig like the photo on the package. 
This is also huge because it opens up possibilities that others may not see.  Liken it to buying a house. Some people walk in and see potential, others only a mess and clutter.  Same with a wig. Some look at it and see potential with some tweaking, others see the photo on the model and go only by that.  I'm a potential seer.

Blend for God's sake blend! 
LOL…this is a serious one because I have to admit back in the day I either rocked full wigs with bangs or half wigs with a scarf…there was no blending  .  But now, I'm older, wiser, stronger, better and it's all about the hairline and the blend.   I'm never sure how I'm gonna accomplish said blend but I'm always willing to try.
So stay tuned, this should be interesting indeed.


Thanks for stopping by.

Life, Liberty, & The Pursuit of Nappyness