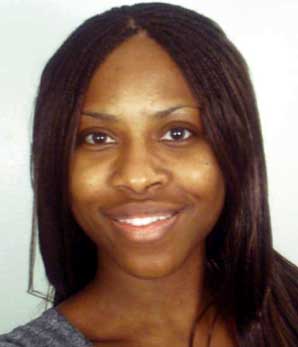 Here I am with human hair microbraids. This is the second time I've gotten these done. The first time was @ the end of 1999. For this look I went to a braid shop and had them professionally done. I plan to wear these braids for a minimum of 2 months, maximum of 3 months and then cut them off and go natural.
I did not have a good experience getting these braids yesterday. I wouldn't say that the braids are tight, but they are super uncomfortable. I don't move braids out of my face until they give a little so that's why they are like that. The whole thing took 11 hours of my time and 3 bags of hair!
~edited September 5, 2003~
o.k. i learned the other day that Yaki hair can be human hair AND YAK HAIR



. Are you as grossed out by that as I am? At anyrate, I'll look up some of the articles and post links to them. I am never, ever ever ever ever ever ever ever ever ever ever putting that stuff in my hair again (ever ever

…poor little yak

)
Articles: (search for word "yak" using Edit > Find in your browser)
BET.com article, All About Wigs Glossary, Picture of a Yak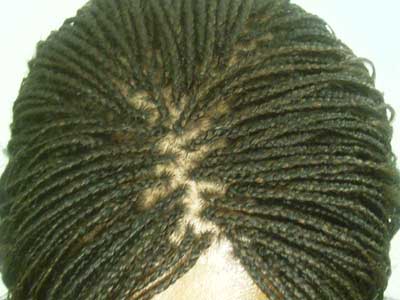 This is why I'm not moving these suckers. They are sooooo small and minutely tight. Very totally scalpy right now. Once these braids loosen up (if they every do *sigh*) I will wear them up and over instead of parted down the center. Get this…the shop can do really nice braids but they know nothing …I mean NOTHING about hair care. After they finish doing these braids they slather them with like 2 cups of mouse and then (if that's not bad enough) they heist the braids up into a ponytail. Can you say yuck! Can you say traction alopecia!!? Needless to day my braids are mouse and spray free as well as not pulled up. Ouch!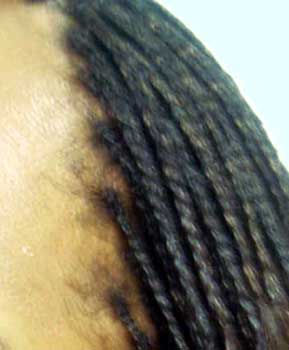 Here's a good shot of my hairline…kinda blurry but you get the idea. I didn't pull it back to take this picture (ouch) I just kinda swung my head to the side and took a picture of what showed (you have to be quite coordinated to do that…don't try that at home *ha*).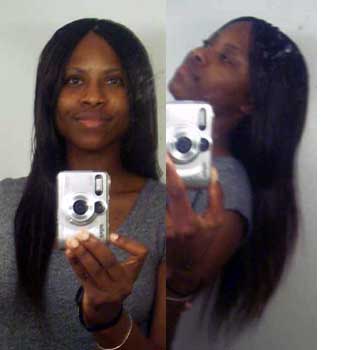 And lastly a shot of the entire deal and the length of it all. I took these pictures in the reflection from the (dirty) mirror. Sorry about that. Anyhoo, the hair I bought was 24 inches of grade A human hair. Can we spell P-o-c-a-h-o-n-t-a-s (my I-love-long-straight-hair-boyfriend will be pleased)