Damp braids = Head Wrap.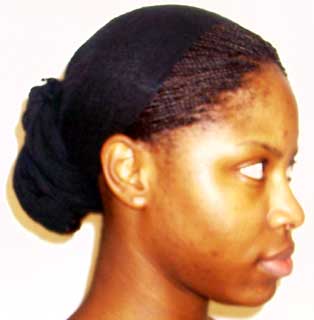 My dad gave me this spun silk scarf and made me promise not to throw it away. It is my favorite, favorite head wrap!. The texture is moderately rough to the touch and the color is matte black. It is about 18"x34" with tassles on the ends. I use this thing so much, even at my hyper corporate job. I've gotten them used to my styles. *smile*
Products:
Tools:
Large rectangular or shallow triangular piece of material.
ponytail holder
How To Do This Style:

1.
Pull hair back in to a bun with ponytail holder. It does not have to be neat.
2.
Lay middle of long end of cloth on the top of your head right at hairline.
3.
Hold each end of cloth with respective hand.
4.
Move hands up cloth on each side so you are now holding cloth taunt (not tight) near your shoulders or neck.
5.
Bring hands together holding cloth at nape of neck under your bun and exchange cloth in hands. You should now be holding the left piece with the right hand and the right piece with the left hand.
6.
This is when you look in the mirror and make sure that the wrap is lying where you want it to. I like mine to be a little off of my hairline so I move it back some now (don't let go of the cloth just kinda wiggle it back a tad).
7.
Now bring the hand and pieces of cloth up over the bun and exchange cloth in hands again.
8.
Make sure that the piece of cloth that is now lying over your bun is lying down smooth(ish). Just look in the mirror, don't let go of your cloth.
4.
Now repeat #5 – 7 as many times as needed until you get to the end of the cloth. You should be keeping the cloth you are wrapping near to your skull so it kinda rests on your skull with the bun being the base or the middle of the 'cloth bun' you are now making. Make sure when you bring the cloth to the nape that at some time you bend the cloth that is hanging over the bun under and 'catch' it so it 's not flapping in the wind. This will cover up your bun of hair.
5.
To end I usually just tie off the tassles on this particular wrap. If you don't have tassles and can tie off the ends do that and then tuck the parts that stick out under something or into something (it's an art…you'll get it *smile*). I really like tassles on my bun wraps 'cause it gives them some character and every one is unique.
Good Luck
See another styles with this same cloth.