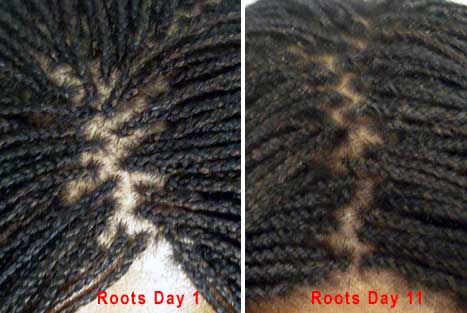 Here's a comparison shot of my roots after 11 days. My hair grows relatively fast especially on the top where this picture was taken. I like braids better once they've grown out some 'cause they are not as scalpy and tight.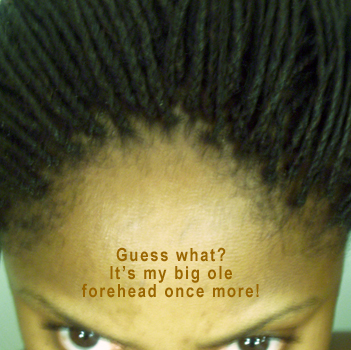 This is a shot of my hairline (and my big forehead) on the 11th day. I have already lost a braid this past weekend. I have a shot of this on a following page.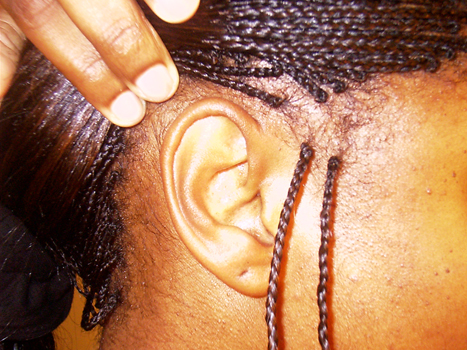 I've lost one braid already and here's a picture of 2 hanging on for dear life. I'm expecting these two to jump ship shortly.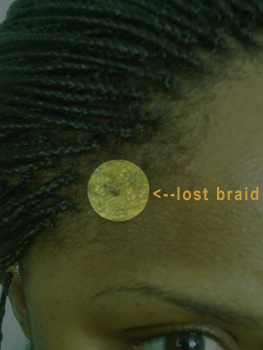 This is where the lost braid was before it decided to defect from my head. bother.
So I decided to wash these braids 'cause they were itching like the dickens. I've had microbraids once before but my friend washed them for me. I came up with this way of washing them so that they would not get all tangled up.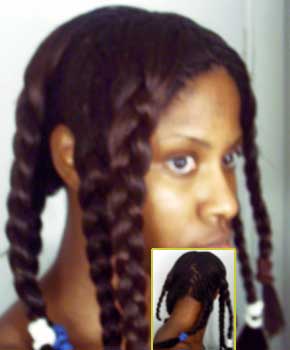 I braided my braids into 8 big fat braids and secured the ends with ponytail holders. I put a picture of the side and the back so you could see what I did. I then got an empty shampoo bottle and filled it with diluted shampoo and water. I rinsed my scalp and the braids thoroughly under the shower and then applied the diluted shampoo. I gently washed my scalp and the braids and then rinsed really well.
After I was finished rinsing the braids I wrapped them in a towel to collect the excess water. Once they stopped dripping I added jojoba oil treatment and then tied them with a hairnet. I slept on that.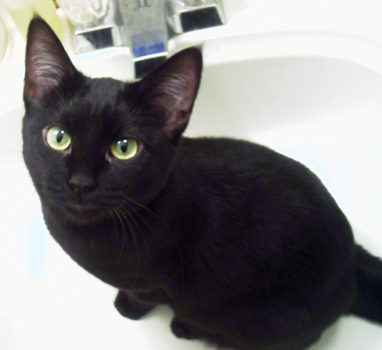 This is Kizi the squeaky butt kitty! She is watching intently from the bathroom sink wondering what in the world I could be doing?
I got dressed this morning and then took the large braids down and this is what I got.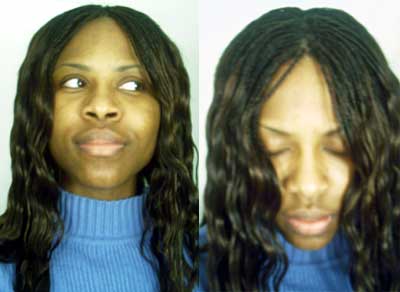 Just in case you were wondering: I had a great costume planned for today and my office managers decided we aren't allowed to wear costumes to work any more. I'd been there for 6 years and NOW they decide this. AND, after I'd gone to the thrift stores and gotten my get up….why I oughta

… o.k., that's bad, forgive me.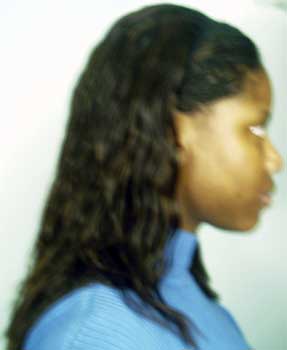 I tied it back with a PHHB so I could go to work. My hair was still damp.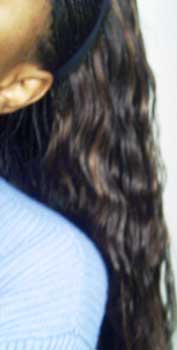 And a shot of the waves I got.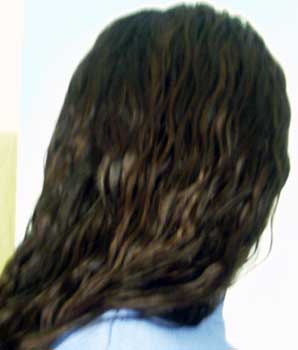 The back.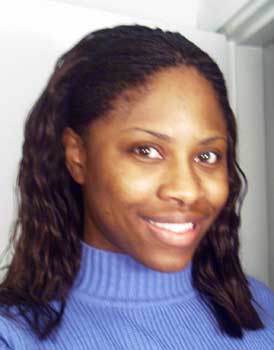 And finally, how I looked today on my way to work.
Products:
Oil
Tools:
Ponytail holders
Panty hose headband 
How To Do This Style:

| | |
| --- | --- |
| 1. | Start with braids. |
| 2. | Part into 6-8 sections and braid each section. |
| 3. | Secure the end of each braid with a ponytail holder |
| 4. | Wash or rinse braids thouroughly with diluted shampoo. |
| 5. | Rinse out all shampoo and add diluted conditioner if desired. |
| 6. | Wrap in towel until hair stops dripping. |
| 7. | Oil each large braid. |
| 8. | Let air dry or sit under dryer. |
| 9. | When dry (or almost dry) remove ponytail holder and unravel braids. |
| 10. | Gently sway head back and forth to get rid of parts. |
| 11. | Tie back with PHHB. |
| 12. | Go be cute! |