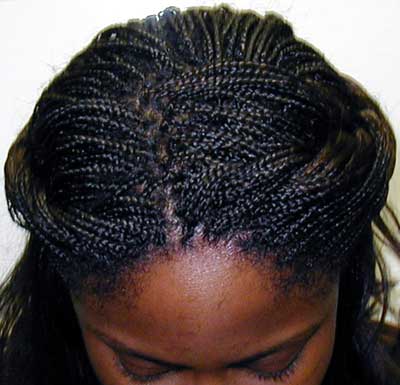 I had to attend a mixer for my MBA program today so I decided to do something with these braids (I mean, I did pay for them right). So I took them out of the ponytail I've been wearing them in for the past week and twisted the 2 front sections back into 4 large flat twists.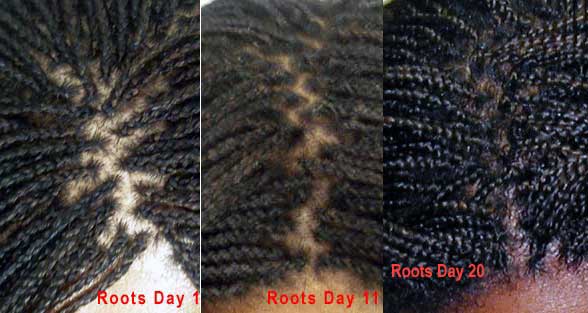 Here's the next comparative root shot. I've been measuring my hair and it seems to grow about an inch a month! It is 3 weeks now and look at how much new growth I have! Scalp is gone.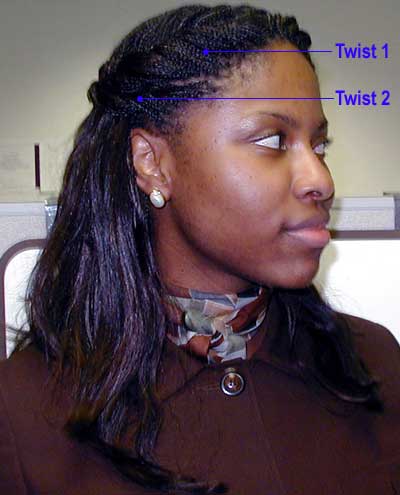 O.k. so here is the look I sported. I parted the front into 2 sections and then did one large flat twist (Twist 1) on each side. I secured each twist with a large bobbypin aimed back into and under the twist. I then did the smaller flat twists (Twist 2) on each side and secured the same way. I did nothing to the ends but if you're curious I have cut off like 3 or 4 inches of these things. See how long they were 3 weeks ago.
p.s. I took down another braid…I guess I'm up to 5 or 6 now.
Products:
Tools:
bobbypins
How To Do This Style:

| | |
| --- | --- |
| 1. | Start with dry braids. |
| 2. | Make a about 3 inch part with your fingers in the front. |
| 3. | Make on large flat twist leaving hair near ears and temples hanging. Go to right above ear and then secure with bobbypin into and under the twist. |
| 4. | Repeat #3 on other side. |
| 5. | Now do one small flat twist underneath the one already done and secure over ear with bobbypin. |
| 6. | Repeat #5 on other side. |
| 7. | Go be cute! |