I actually got my hair cut last year (December 23rd to be exact) but I decided to put the photos under 2003 anyway *smile*.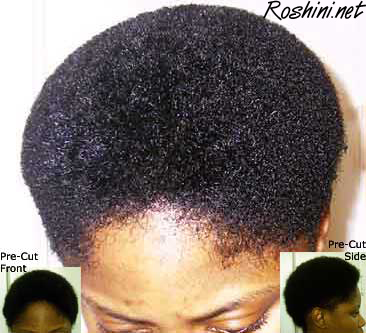 I went to the barber and told him to cut the front, top and back lower (the mohawk part) 'cause I was still finding straight ends. He did exactly what I asked him to…but I didn't like it much and am patiently waiting for my puff to come back *sigh*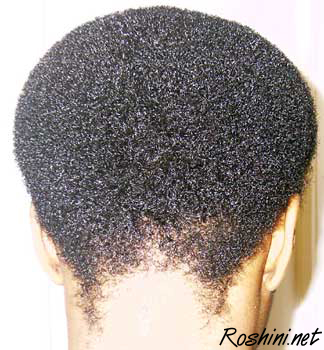 O.k., first I have to deal with a funky hairline in the front…but what's up with this neck line in the back?!?!
I must stay, that guy sure can shape a fro.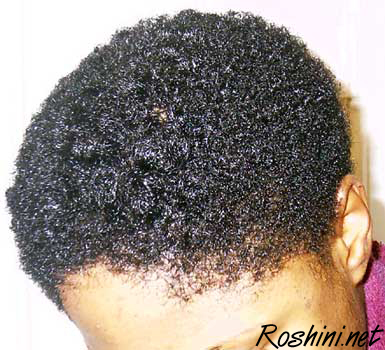 I washed my hair twice with Suave Tropical Coconut Shampoo to get all the clippings out and I've regretted it ever since. I don't typically use shampoo on my hair so my hair was extra crunchy and extra itchy after that. *bother* That stuff used to be my favorite shampoo too. I think I'll dilute it for later use. My hair was very angry indeed

.
I've been trying to perfect my routine, and with that been trying out many different conditioning treatments. I've tried 2 very different ones in the past week and I've found an absolute favorite. Honey!
AVOCADO TREATMENT
A member on the nappturality.com message board suggested using avocado as a conditioning treatment. I'm down for whatever so I mashed up a perfectly good 1/2 an avocado (that I would have gladly eaten), added some jojoba oil treatment and put it into my hair. I covered my hair with a conditioner cap, then tied it down with a scarf and went to sleep. I didn't see much difference in the morning to tell you the truth and was bothered that I had used my breakfast in my hair.

You live. You learn.
HONEY TREATMENT
I got the idea for using honey in my hair from nappturality.com (I love that site, can you tell?). At anyrate, it is said to be a natural humectant. I mixed honey, shea butter, jojoba treatment and placenta treatment in a bowl (not that much 'cause I don't have much hair). I zapped the mixture in the microwave for 1 minute and it came out looking like syrup (with a little less thick consistancy). I then sectioned my hair with my fingers and added the mixture liberally to my scalp and hair. As I was doing this I could feel coils defining themselves, especially in the back of my hair. I was very shocked. After I'd finished I put on a plastic cap and did chores for a couple hours. I sat under the dryer on high for 10 minutes then took the cap off. To my amazement my hair was so shiny, soft and curly! My boyfriend even came by and ask what I had done. Needless to say this was a great success. I showered and rinsed out the mixture thouroughly, then washed with conditioner and that's it! I wore my hair tied back that night (New Year's Eve). It's not the best picture, but here is my Old Year's Night look.
edited 1/10/2009 (concerning placenta treatment):
Fact Sheets – Hormones in Personal Care Products and the Risk of Breast Cancer in African-American Women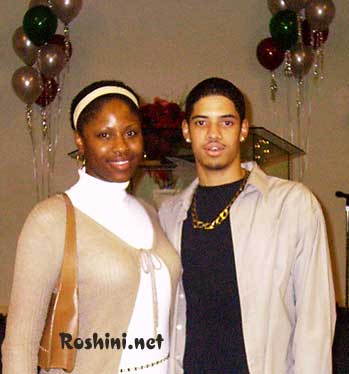 This is me and my boyfriend at church on Old Year's Night 2002/2003. I had a blast (my church throws a big party … see the balloons?)
Resolutions:
1. More God (in scripture, praise, worship etc.)
2. Less weight (loose 10 lbs minimum)
~edited September 5, 2003~
I've lost 18lbs since this picture :D)
3. Less debt (be a better steward of my money)