So I'm scrolling through Instagram today when come upon this picture: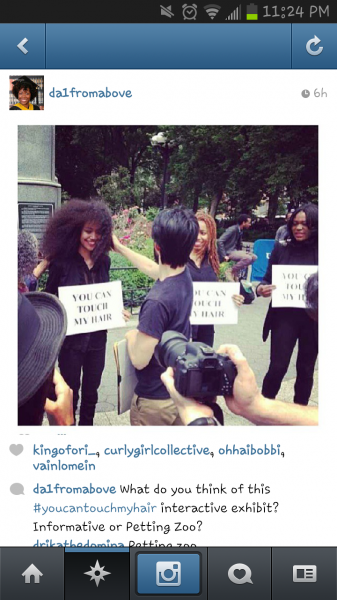 which seems to be of women of color holding signs that say "You Can Touch My Hair" while strangers … well … touch their hair. I was intrigued, so I researched and found the sight Un-Ruly.com and their  "You Can Touch My Hair" Interactive Public Art Exhibit.
My visceral reaction was that it was a positive thing.  When my hair was longer I think my 6 foot 1 inch tall frame kept me from most of the unsolicited touching that my fellow natural hair wearers lament about, but I received my fair share of requests to have a tactile experience with my mane.
However, immediately after the warm fuzzies I felt a pause, followed by the thought "It's almost like they are petting them!".  I then started reading comments on this and other photos with the #youcantouchmyhair hashtag and saw my thoughts were mirrored by others.
What do you think?  Is this interactive art exhibit degrading or informative?
Oh and if you feel the need to rub up on some ethnic hair and are in the New York area you can catch the Un-Ruly.com "You Can Touch My Hair" Interactive Public Art Exhibit again this Saturday, June 8th from 2-4pm in Union Square.  Looks like they got some variety too, I see loose natural, locs and relaxed hair so getchusome with permission and for the love of Christ don't touch anyone's hair unless they are holding a sign that says you can LOL!