Update October 10, 2017
⬇️⬇️ WAYS TO HELP ⬇️⬇️
(continue to check back, I will update)

➡️ Tim Duncan's USVI Relief Fund
➡️ Richard Branson's BVI Relief Fund
➡️ Kenny Chesney's St. John (USVI) Relief Fund
➡️ Community Foundation of the (US) Virgin Islands Relief Fund
➡️ Shop.Glamazini.com — 100% of profits now through November 3oth will be donated to help rebuild the USVI and BVI after Hurricane Irma
➡️ Gumption's BVI Recovery Fund
➡️ Lifeline Pharmaceuticals, LLC; Stat Logistics, LLC; and Serenity Luxury Villas are working directly with American Airlines, Fedex and Crowley to use the combined resources and contacts to get donated supplies on the ground
➡️ AARP Foundation — "With 100% of funds being directed to those in need, each dollar you give makes a difference. AARP Foundation will work with state offices in the southeastern U.S., Puerto Rico, and the US Virgin Islands, along with relief organizations in the Caribbean, to distribute each and every dollar raised to organizations providing relief and recovery support to disaster victims."
➡️ In Atlanta, Orlando, Miami & Mississippi
➡️ In New York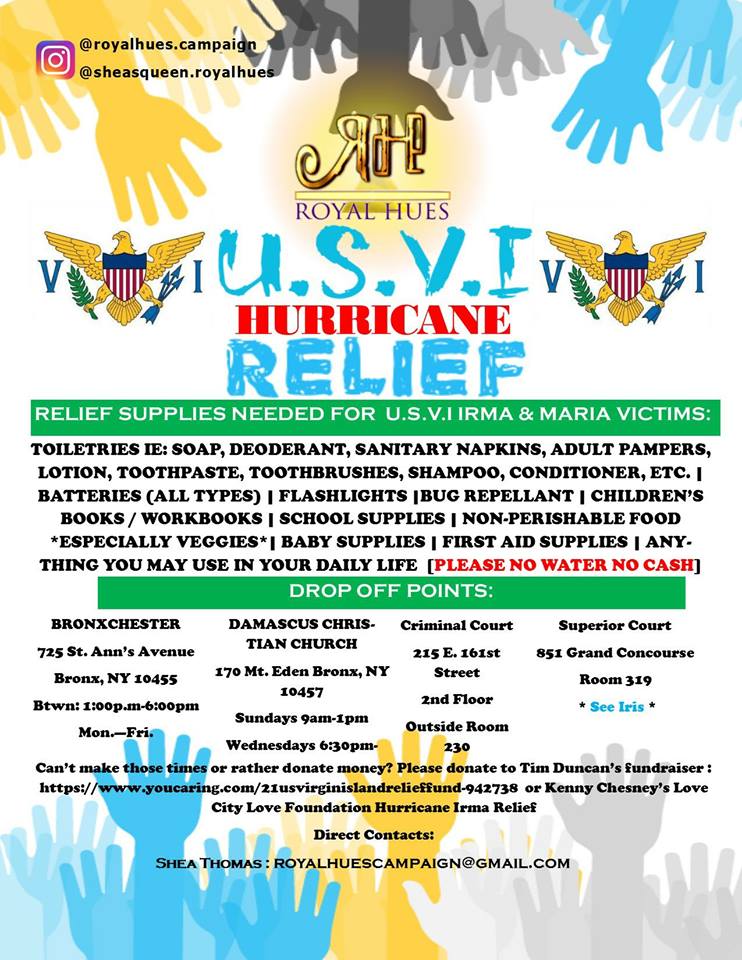 Hey, everyone, it's Roshini aka Glamazini and I need to update everybody about what's been going on with hurricane Irma. Thanks to everyone who's been checking on me and my family. As of Sunday, everyone is accounted for, alive, and well Thank God!
If you are unaware I was born and raised in the United States Virgin
Islands on St. Thomas and my parents were born and raised in the British Virgin Islands on Tortola. Last week hurricane Irma quickly moved from a category 3 to 4 to 5+ and barreled through the Virgin Islands, US and British, as well as a few other islands. The British Virgin Islands sustained a direct hit.
Just for some perspective, 90% of the people that I love and care about are in the Caribbean in the Virgin Islands, 9% are in Florida, and the remaining 1% are scattered all over the world … so you can imagine that hurricane Irma was really taking up all my time. Everything stopped when the hurricane was coming toward my islands and especially because it quickly picked
up from a 3 to a 4 to a 5 category and then they were just saying 5+.
To quickly explain the reason they say "5+" is because there are no other categories for hurricanes over 5. A category 5 hurricane is anything above 157 miles an hour sustained wind and Irma was about 187, in some places 190-something – 200ish. So if a category 6 and even 7 was possible that would have been what it was categorized as.
Irma was the strongest hurricane that has ever been recorded in the Atlantic Ocean it was measuring on Richter scales. That hurricane hit my family directly.
The eyewall of a hurricane is the worst part. A hurricane is a giant cyclone. On the inside of the hurricane, there's the eye which is
ridiculously calm. In 1989 I survived Hurricane Hugo. It took the roof off of our house and it was a category 4. I remember going outside during the eye and marveling at how quiet it was because there are no animals, the pressure is different and it's just a really surreal experience. You could imagine then that going from barely any miles per hour winds to immediately 187 or 200 would be catastrophic. That part is called the eyewall. It's the worst part of the hurricane and my family members sustained a direct hit from the eyewall of a category "6 or 7" hurricane.
On top of that, my parents specifically were across the street from the ocean and the surges were twenty feet in some places. The roof of their building had already gone before the eye of the storm hit and they had to go into a storeroom underneath the stairs. By all accounts beyond miracles of the only true and living God my parents should not be alive right now. I've seen a video of people looking down from up in the hillside from a mile and a half down the street from where my parents were and it's not possible that my parents are alive right now.
But they are because God is.
I jumped on to give an update to let you know that St. Thomas, United States Virgin Islands, which is where my brother was during the storm, looks really really bad. I was there for Hugo it looks worse. It's tore up real bad. St. John, US Virgin Islands is worse because they were closer to the eye of the storm and Tortola, British Virgin Islands looks like a bomb dropped. Not only that there's just no infrastructure. The phone towers are messed up, some roads are washed out, no electricity, most people's roofs are ripped off. I only know one family member that has a fully intact roof that I know of so far. Everybody else has partial roofs and/or no building. There's no infrastructure. It's gone. Not the connections are gone … the entire infrastructure of a community is busted up. It looks like a bomb went off and it is going to take years for us to rebuild.
On top of that, there was another storm that was threatening
to come right behind it but thanks be unto God Jose did not come straight to us it veered off into the Atlantic Ocean and it's up there spinning around right now and I hope it stays up there.
I jumped on for two reasons:
1. I did get to put my Weekly Update up and there were so
many of you guys that voiced your concerned and I want to say thank you.
Social media really helped me not lose my sanity. Last week when this happened everything else stopped. Glamazini basically stopped and I went into hurricane Irma one-woman search-and-rescue mode and I literally am still helping people get in contact with their
family members. My husband was reminding me to eat and rest and I had to take magnesium to fall asleep because I was just wired and so concerned about all of my loved ones. Just Sunday, 5 days later, was the first time I spoke to my father. I've spoken to my brother and I have yet to talk to my mother. That's a little nerve-racking but I know she's fine and I know that it's going to be a long road.
2. The other reason I jumped on is so many people have asked how they can help and the answer to that question is I do not know as of yet however when I find out I will come back to this
video and I will update you guys. So please up above, I will update with legitimate places that you can give and help The Virgin Islands to rebuild.
There is no shame in my game I have no problem with asking for this. If you guys love me if you guys have any concern for my family if you want to know how you can support me in any way at all I please please please consider helping. I don't care if you give a dollar. Really . Some people feel funny about that but like legit if everybody on my social media accounts gave a dollar that'd be thousands of dollars. It'd be incredible and so please check back over time I will continue to update.
Love your family members you guys and remember what's important.
Okay.
Bless up.VI Massive.