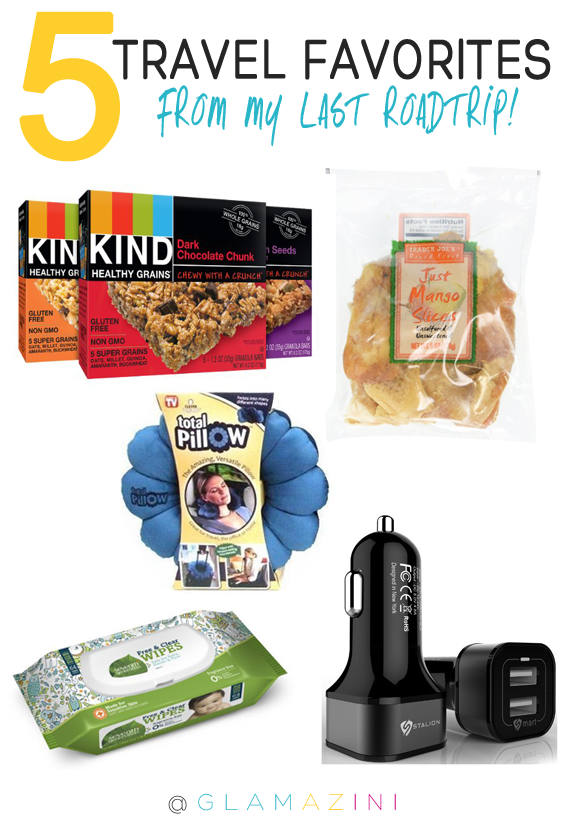 We've done 2 major roadtrips in the last 2 months! One from St. Louis, Missouri to Charlotte, North Carolina and the other to Oklahoma City, Oklahoma. I'm really getting hang of making our drive as comfortable as possible! Here are 5 items we loved during our most recent roadtrip!
Kind Bars – We've pretty much tried all the flavors of Kind Bars and keep them on hand so, of course, when we jump in the car for a roadtrip we always take a box for between rest stops! Bonus: They are gluten free!
Trader Joe's Just Mango – Same deal with the Trader Joe's Just Mango. They are unsulfured and unsweetened mango slices (who knew mango slices where "sulfured" huh?) and we typically keep them on hand. Think healthy fruit leather so no cooler needed.
Baby Wipes – Once I became a mom I realized I'd been missing out on the baby wipe life all these years! They are perfect on a roadtrip for moms and non-moms alike. They have so many uses – from cleaning up spills to wiping hands while on the road and much more! Thank me later.
Total Pillow – I never hit the road without my Total Pillow. I've had mine for over 5 years & it's still in great condition!
Multi-Port USB Car Charger – This is a sign of the times. So many gadgets, so little ports. I never get on the road without making sure my devices will be powered up the entire trip!
What are your favorite items from your road?