Who doesn't love a deal? I know I do!
If you're familiar with my bucket list, and remember this post about my love of Groupon you'll quickly realize why I was so excited to find a Groupon for a local meal delivery company, Metabolic Meals last year. Finally I would get to try out my "Zone diet or something like it" bucket list item and see if it's something I'd like to do after baby gets here.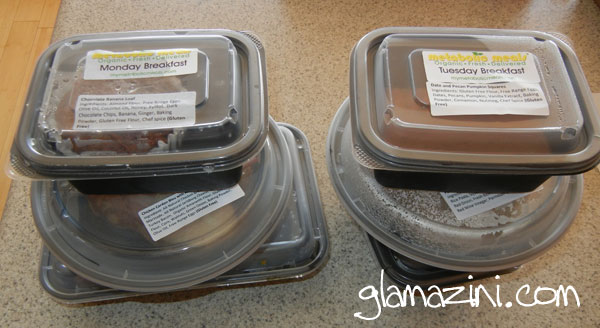 My 1st delivery from Metabolic Meals
Oh yeah baby.
I purchased the Groupon way before I got pregnant with Flickerbug, then as the expiration date approached I realized I'd better use that sucka stat. Unfortunately, because I'm pregnant I can't do a true review of the products (as in I'll need to eat more food than they provide) but I still want to toss up this "soft review" of my experience.
First Impression of the Company

When I called to order, the lady that answered the phone was sweet as can be but ill-equipped to answer my questions
I was emailed shortly after to get my address, I responded to the email and asked some questions. I never got a response to my questions
The box with my Monday and Tuesday meals was left on my doorstep sometime between 10:30pm Sunday evening and 6AM Monday morning.
First Impression of the Delivery
I was surprised to see a cardboard box when I opened my door, as I was expecting an insulated cooler. I'm going to assume I got a box because I had a Groupon?
The portion sizes seem super small to me, especially to support a person who is working out.
The food containers were wrapped in an insulated wrap with ice packs (see photo below)
First Impression of the Food
Smelled great, looked tasty
Hubby went right in on the Chicken Cordon Bleu with Amaranth Griddle Cakes for his lunch on Monday. He gave it a C grade overall, although we must admit that the Amaranth Griddle Cakes were intriguing and packed a nice zing to them.
Hubby was still hungry after he ate his lunch portion and had to augment with more food
I had 1/2 the Pasta Salad with Grilled Chicken for lunch (with my own additional supplemental food) and it was ok. The chicken was nice and moist, but once again the portion size would've left me wanting if I were working out.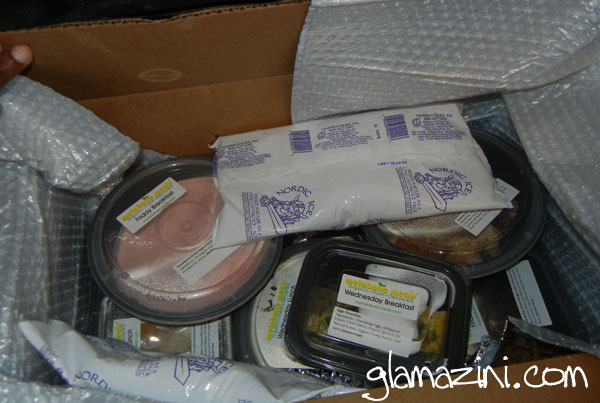 My 2nd delivery from Metabolic Meals
The box with my Wednesday, Thursday and Friday meals was dropped off on my doorstep in the wee hours of the AM Wednesday morning.
Final Impression of Metabolic Meals®
I enjoyed receiving the meals during the week and so did my husband. The convenience could not be beat, and it was a true time-saver. I also found it exciting to go into my refrigerator and choose what to eat next (I did not go in the order they provided because of my pregnancy etc.). Ultimately I would give Metabolic Meals a C grade overall. The food was tasty most of the time but the portion sizes were small. I wasn't too keen on the cardboard box they were delivered in, nor did I feel like the company was responsive to my needs when contacted. Lastly I got sick mid week and suspected that it may have been one of the meals so I did take a break for a day near the end of week to recover. My husband did not feel sick.
Have you ever tried a meal delivery program? What did you think?
. . . .
Disclosure: The Groupon was paid for with my own money.
. . . .
Edited May 4th to add:
Last week I got a chance to speak to the owner of Metabolic Meals, Jason Barbour, and clarify some of the questions raised in my post.
Here's what I learned:
As I speculated, I received my meals in a cardboard box solely because I was using a Groupon. For a client, meals are delivered in a thermal cooler that is then returned to the company and reused.
The Groupon package that I received was 1,200-1,400 calories per day. Jason suggests their double protein plan and/or adding extra snacks for more active individuals and pregnant folk (like myself).
Metabolic Meals are packaged in a cold room and their facility is visited by the Food and Drug Administration on a daily basis. This insures that food is stored and packed at the correct temperature to avoid contamination and insure freshness.
Edited October 1st to add:
In April the owner of Metabolic Meals offered me a complimentary week worth of food. I decided to take him up on that offer last week (it took so long because in between there I had a baby).
This time I received the double protein plan delivered in this big freezer tote
(which I was quite happy to see after getting the cardboard boxes last time LOL). Each delivery was already at my doorstep by 8pm each night so I could put them in the refrigerator before I went to bed. By the end of Monday I was honestly excited about what would come the rest of the week. The portion sizes were TWICE what I had last time. I don't remember every dishbut I do remember that they were all DELICIOUS! I'm a person who loves to eat but hates to figure out what I'm going to eat. For one wonderful week I did not have to do that, just had to reach into my fridge and warm up what was next. If and when I can afford such a thing I would absolutely love to get Metobolic Meals & sure wish this was my experience the first time I tried them out. I'm actually sad the week is over.