Disclosure: Thanks to Garden of Life for providing the RAW Meal Organic Shake & Meal Replacement for me to review. ❤ As usual, the opinions expressed are my own and as usual I'm #teamGardenofLife!
I've often joked with my husband wishing there was a product I could take that had everything I needed in the place of eating a meal, taking vitamins, taking supplements etc. etc.
Weird I know but very true.
Well by golly good gosh gee was I excited when my favorite company, Garden of Life, contacted me and asked if I'd try the improved formula of their RAW Meal Organic Shake & Meal Replacement.
Yes I will!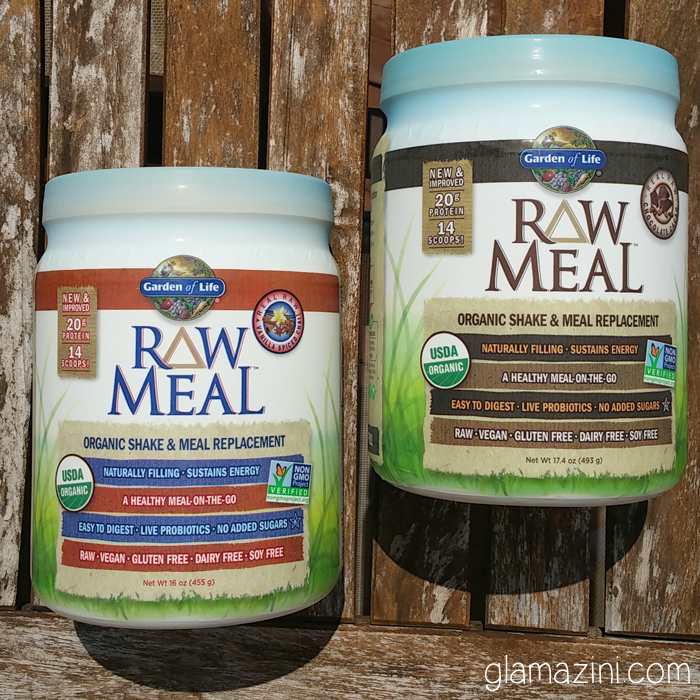 SO EXCITE!!




So what exactly is RAW Meal?
Garden of Life RAW Meal is designed to be a healthy well-balanced meal-on-the-go.
It's raw, vegan, gluten, dairy and soy free, with live probiotics and enzymes. There are no added sugars, a long list of Vitamin Code® RAW Food-Created vitamins and minerals providing at least 100% of the daily value of 16 key nutrients, 20 grams of protein, and 5-6 grams of soluble and insoluble fiber. If that's not amazing enough, also present are 45 superfoods from RAW organic seeds, sprouts and greens per each scoop.
One scoop is considered a shake serving and two scoops is considered a meal replacement serving.
The product itself is a powder that comes in 4 flavors: Original, Chocolate, Vanilla and Vanilla Chai. It can be mixed with water, or unsweetened nut milks, then drank. Yum.
So what makes it "New & Improved"?
I often chuckle when I read something is "new AND improved" because I think how can it be both? I guess the point is the previous formula has been improved on so now it's brand new!
The changes are:
The packaging has a new look
The protein increased from 17g to 20g per scoop
The Organic Brown Rice Sweetener was removed reducing the sugar content to 1g per scoop.
Removing the Organic Brown Rice Sweetener lowered the product's weight
There are now 45 Superfoods compared with the previous 26
The enzyme package has been increased from 4 to 13 total, all of which are NON-GMO Verified
The probiotic package has been changed from "B. lactis, L. acidophilus" to "L. plantarum, L. bulgaricus" to achieve Kosher Pareve
The Informed Choice logo has been added meaning they have been tested for banned substances by the world class sports anti-doping lab and approved for use.
They are now NSF Gluten Free Certified, Vegan Certified by Vegan Action & Kosher Certified
So what do I think?
I was sent two of the four flavors, Chocolate and Vanilla Chai (pictured above) and have been using them both for a few weeks, typically in the morning as a meal replacement for breakfast.
I first tried the RAW Meal with only water and honestly, that is not my preference. When mixing two (2) scoops (the meal replacement serving) with only water I became hungry after just 2 hours which was shorter than I would have liked. Also mixing it with solely water reveals the grit of the product and makes it harder to drink.
Nowadays I tend to mix the RAW Meal with unsweetened cashew and/or almond milk and a heaping spoon of vanilla Greek yogurt. When I mix two (2) scoops (the meal replacement serving) in this way I'm full all morning, 3-4 hours easily. If I mix well (blender bottles work best) then let it sit for a few minutes everything melts together and it's much smoother to drink.
Another option for preparation is to steep some flavored tea the day before and store it in the refrigerator so it's nice and cold. I did this with Vanilla Chai tea. The next day mix the RAW Meal with half tea and half unsweetened nut milk. Thank me later.
Overall I'm a fan of the RAW Meal and will definitely be adding it to the arsenal of GOL products that I purchase with my own $.
—
aaaaaand as always when I'm excited about the products I go ahead and
have me a giveaway!
Up to five (5) lucky winners will receive one (1) of the new RAW Meal Organic Shake & Meal Replacement products from Garden of Life!

BOOM.

Enter below & good luck!
Statements in this blog post have not been evaluated by the Food and Drug Administration. These products are not intended to diagnose, treat, cure or prevent any disease. #disclaimerlife