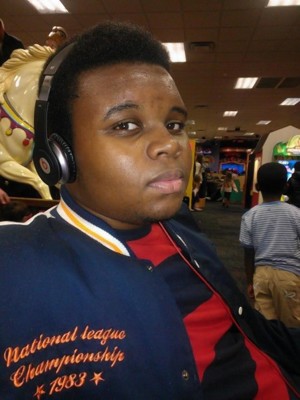 I had the most sobering thought yesterday: Last week this time, Michael Brown, the 18-year old unarmed college-bound young man gunned down by police officers in Ferguson Missouri was alive and well and unaware of what the next day would bring.
He was also unaware of the affect his unnecessary death would have on his town and eventually on the entire country and world. As of today there has been rioting, looting, SWAT teams, press conferences, the President has spoken, looters burned a QuikTrip down, Rev. Al Sharpton has flown in and spoken, protesters have been shot with rubber bullets, tear gas has been used, people have shot at helicopters, clergy, Aldermen, citizens and media have been arrested, a moment of silence for Mike Brown was observed, candles have been lit, protesting has spread to other cities in the country and the saga continues.
I found this amazing resource of the timeline of events so check it out here:
and a couple days ago I made this video to get my emotions off my chest about the entire thing:

Watch directly on Youtube | Help me meet my goal of 20K subscribers by end of year *thank you*
I used to work in Ferguson for 2+ years until 2012 when I left the work force. It's the last place I expected to see this occur BUT it was obviously brewing under the surface of a otherwise seemingly peaceful and, dare I say, "quaint" place that only crossed my mind if I wanted to grab a quick bite to eat for lunch.
My heart breaks for the family and friends of Michael Brown as they plan a funeral instead of take their son to college as was the plan this week. I wonder if Ferguson will recover from this? Sigh.
Are you following the story about the Mike Brown shooting and turmoil in Ferguson? What are your thoughts?
Oh and don't forget to check out my other VEDA (Vlog Every Day In August) videos.
Edited to add:
I woke up this morning, August 15, 2014, to the news that the Ferguson police department finally released the name of the officer involved in the shooting of Mike Brown. His name is Darren Wilson. I also learned that, in conjunction with releasing this name a week after the shooting occurred, they release surveillance photos of a "strong arm robbery" that occurred just prior to the shooting and named Mike Brown as a suspect. They also took no questions at the press conference where they released this information. I have questions:
Why did it take a week to release the officer's name?
Why was it released at this time after saying it wouldn't be unless a judge ordered it, which did not happen?
Why was the name released at the same time as the surveillance photos etc.?
Wasn't Mike wearing tennis shoes? Thy guy in the surveillance photos looks like he's wearing slippers.
If Mike WAS shoplifting some cigarettes like they are passively implying, what does that have to do with him being shot 8 times in the middle of the street and dying in a pool of blood?
When did the police become the entire judicial system? What happened to arresting folk and letting the judge, jury etc. do their job?
What was up with the SWAT team, tear gas and rubber bullets?
What part of the game is this?
At any rate, the institution of Missouri Highway Patrol Captain Ron Johnson by Missouri Governor Jay Nixon has apparently changed the atmosphere in Ferguson overnight. They removed the army invasion-like police presence and there were no arrests or violence for the 1st time in days.