Updated December 2016

This version of the 30-Day Happiness Challenge is no longer freestanding. It will live again in my new Facebook group. The #1 topic I am asked to talk about is Inspiration/Motivation … #2 is hair (yeah girl I was shocked too). In response, I started a Facebook Group named 🌱 CELEBRATE NEW GROWTH 🌱 where the entire purpose is supporting an expanded life in all areas. If you want to be part of a positive, supportive group of women intent on living bigger, being better, and taking things higher then join us! — bit.ly/CelebrateNewGrowth. See you there! 🌱💚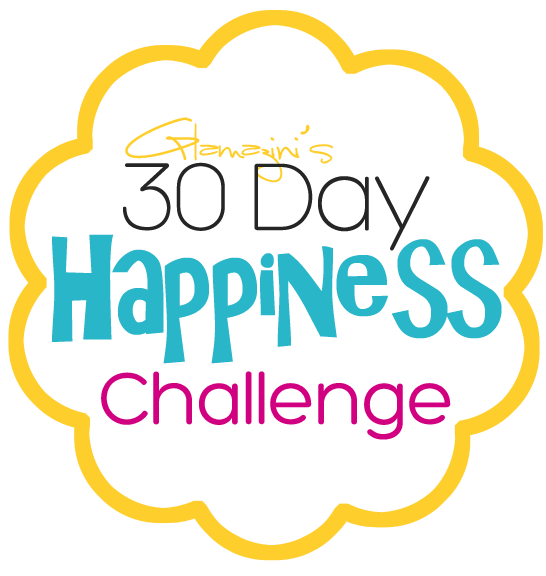 Last week I updated you on my progress with my the 30 Day Happiness Challenge and, as promised, I'm back on day 15 with a week 2 update.
Catch up on what the challenge entails here.
The 30 Day Happiness Challenge Facebook group now has 65 members and is very active with posting. I'm so pleased. If you are interested in joining the group let me know below and I will send you an invitation via email.
Here's how I've been doing week 2:
"Each day in April I will write down 3 new things that I am grateful for"
I'm still consistently posting my 3 gratitudes in the 30 Day Happiness Challenge Facebook Group and I am definitely seeing a difference. It was much easier to think of positive things to include in my list this week, even on the hard days. Winning!
Here are a few things I've been grateful for this past week: torrential rain but no severe storms, God enabling me to comfort people that confide in me but have never met me & helping my husband cut his patterns for fashion school.
"Each day in April I will journal about one positive experience I've had over the past 24 hours"
Still doing this in the Facebook Group and still haven't missed a day … well maybe one day LOL! This is actually getting easier too. It's forcing me to think positively and I think that is contributing to me feeling better this week than last. Hmmm who knew? Still winning.
Here's my favorite journal entry this week:
Today's positive journal entry is this comment I just got on a video:
"Glamazini, I've been a fan of yours for more than 10 years. I've learned a lot from you, and I find you so inspirational. Thank you for your openness and honesty. I realize that I should show my appreciation, because life should not be taken for granted." I'm not sure if the passing of 2 black women who advocated for self love online this week brought this on but even so, it was a nice thing to read.

"Each day in April I will meditate using the relaxation audios located in the Depression CBT application or intentionally do something that makes me happy"
Still opting for meditation over the 'something that makes me happy' list, and although I'm learning to enjoy meditating I've only done this half the week. Time keeps getting away from me so I'll do better next week. I find it so relaxing and an excuse to just pause throughout the day and focus. I've also found myself taking times to just stop during the day and chill, sit on my deck, lay out a blanket on the grass with my son and hang out. I definitely didn't expect this either.
"Each day in April I will drink 64 ounces of water"
Sigh. I still am only getting one 32oz bottle down each day. It's almost like I have a mental block. I will continue to aim for more next week.

"Each day in April I will go to bed before midnight"
This is a big ole fail. I am so ALERT at night and I start doing everything at midnight. I cannot be the only person that does this LOL. I do notice that I'm trying harder though so some days I get in bed earlier … and that will have to be a win LOL! Somebody pray for me.

"At least twice a week in the month of April I will send 1 positive message to someone in my social support network praising or thanking them"
This has been fun and I'm not even doing just 2 specifically, I'm just telling folks they rock and texting nice message or kind things whenever I think of them. This makes me feel really good. I'm finding that this week, with 2 deaths in our online community (here & here), I'm seeing and increase in appreciative messages from my audience as well. Thanks y'all.

"At least twice a week in the month of April I will exercise"
This is still happening in the form of dance practice and my hip hurts LOL! I can't get back to my Zumba classes until hubby graduates next month. Until then I'm gonna have to count the HOURS I spend choreographing, practicing and ministering in dance.

Week 2 was much better than I expected it would be at the end of week 1 when hormones had me feeling some kinda way. I'm feeling good, even with the rainy weather these past few days and snow yesterday. I'm also feeling calmer and less overwhelmed (I still have a bizzilion thing to do though). It's still not easy … just easier … so I'm interested to see what 2 more weeks of this intentional behavior will produce. I am definitely happier and calmer at the end of week 2 than I was at the beginning of the month so that is progress.
Stay tuned for week 3. If you're doing the challenge let me know how you're doing below.
If you are interested in participating let me know in the comments below and I will send you an invitation via email to the 30 Day Happiness Challenge Facebook group.
This version of the 30-Day Happiness Challenge is no longer freestanding. It will live again in my new Facebook group. The #1 topic I am asked to talk about is Inspiration/Motivation … #2 is hair (yeah girl I was shocked too). In response, I started a Facebook Group named 🌱 CELEBRATE NEW GROWTH 🌱 where the entire purpose is supporting an expanded life in all areas. If you want to be part of a positive, supportive group of women intent on living bigger, being better, and taking things higher then join us! — bit.ly/CelebrateNewGrowth. See you there! 🌱💚