Disclosure: Thanks to Garden of Life for providing the Dr. Formulated Probiotics for me to review & letting me sample the enzymes and fiber while visiting their headquarters ❤. As usual, the opinions expressed are my own.
When I attended the Garden of Life Blogger Summit back in May they introduced us to a new line of probiotics, enzymes & fiber slated to be on the market later this year.
Well guess what? It's later this year and
BABAM!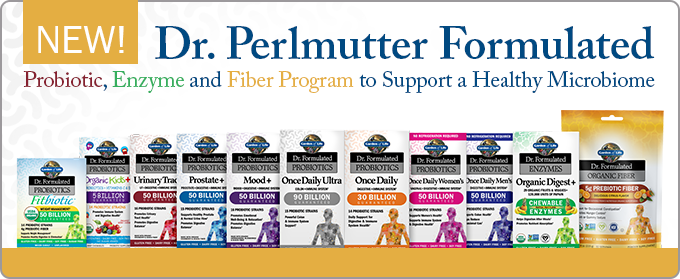 AWWWWYEEAAAAH!!!




The new line of Dr. Perlmutter Formulated Probiotics, Enzymes and Fiber are available for one and all to get their microbiome life together.
The microwho the what you say?
Garden of Life partnered with America's Brain Health Expert, Board-Certified Neurologist and #1 New Your Times Best-Selling Author, Dr. David Perlmutter, M.D, to create this incredible line of digestive health products. Perlmutter, an expert in the Human Microbiome, has educated millions about the benefits of probiotics and immune and brain health.
You keep saying "Microbiome", what is that?
Uh … this thing …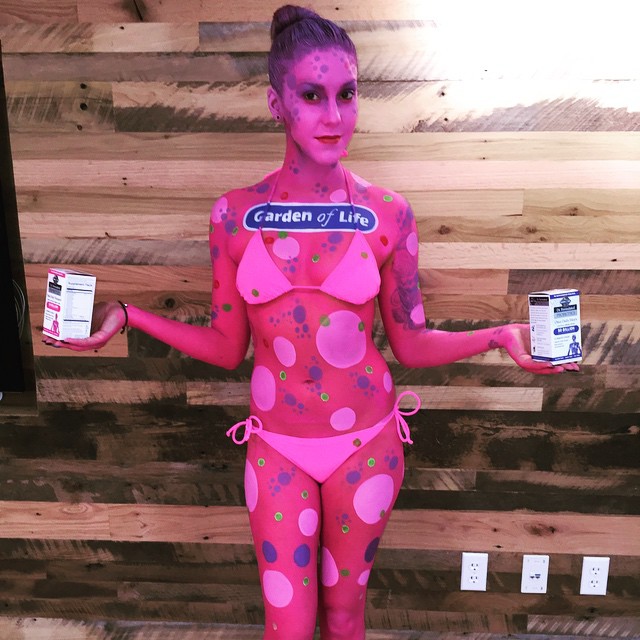 LOL! Well sorta. She's representing the Human Microbiome, "an evolving collection of trillions of microbial organisms living in and on the human body."
A healthy microbiome contributes to a healthy you, so much so that researchers are only beginning to discover all the things it affects.
According to Dr. Perlmutter good bacteria may be responsible for:
Aiding in digestion and the absorption of nutrients.
Supporting immune system function.
Producing and releasing important enzymes and substances.
Helping with stress management.
Assisting in countless healthy body systems and processes.
This new line of Dr. Formulated products includes 9 probiotics, 1 enzyme and 1 fiber designed to work together to support your microbiome along with a healthy whole food organic diet.
So let's run down each product. Woohoo! (can you tell I'm too excited!

)
Dr. Formulated Women's & Men's Once Daily Probiotic
They actually sent me both of these products: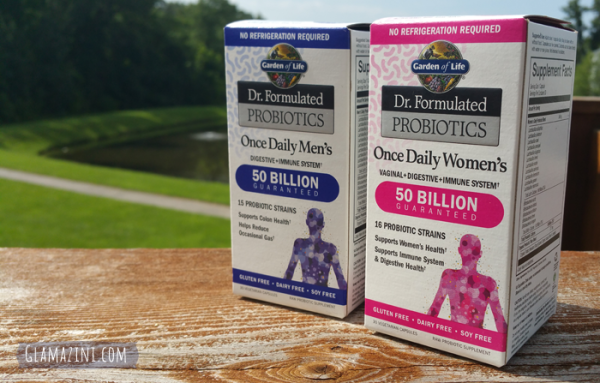 Hubby's gonna try the Men's and I started the Women's a few days ago. Both are shelf stable, packaged in a desiccant-lined bottle (think those little packets that keep products dry but instead of a packet it's the lining of the bottle … cool huh?), with no refrigeration necessary.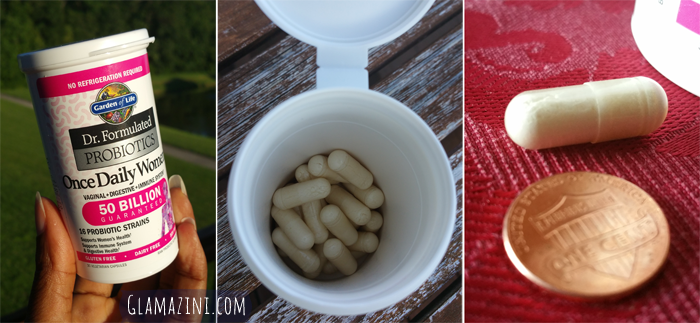 They are gluten, dairy and soy free as well as vegetarian. Like I said, I've only been taking mine for 4 days now and this morning I work up with my 1st potential noticeable symptoms of this change in my supplementation. I'm aware that when you start taking any probiotic product (that actually delivers good bacteria to the intestines without all being killed in the stomach) you could experience some rubbly tummy type situation for a few days or weeks as your body gets repopulated with the good stuff. I'm noticing muscle soreness and a mild headache (that I suspect could be from some detoxing beginning to occur) as well as a small change in elimination but I'm super regular as it is so nothing too different. I'm expecting this to go away in a few days to a couple weeks with continued use.
Dr. Formulated Mood+ Probiotic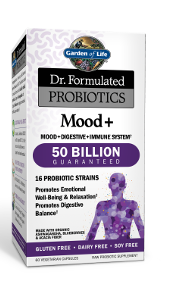 This is the probiotic I was excited to try when they introduced us to them in May. As you all know, I've managed low mood for years so a probiotic product like this one, specifically formulated with Organic Ashwagandha and Organic Alaskan Blueberries to aid with stress management, as well as specific strains of probiotic geared toward mood support and relaxation is right up my alley. So much so that I plan on purchasing this once my month of the Women's Once Daily is done.
Dr. Formulated Fitbiotic Probiotic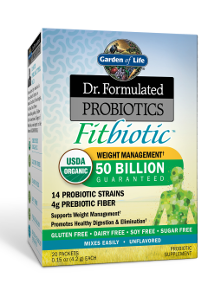 You guessed it, this would be my 3rd choice out of the line.
I love the Garden of Life Raw Fit protein so of course their probiotic product designed to support weight loss is right up my alley. The Fitbiotic is also Certified USDA Organic, gluten, dairy, soy and sugar free. It includes 4g of prebiotic fiber from organic acacia which can help maintain healthy blood sugar. It comes in packets that are unflavored and mixable with water or raw juices.
Dr. Formulated Urinary Tract+ Probiotic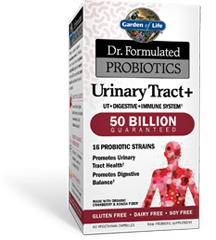 I know someone who is constantly dealing with UTI's so something like this would be great for them. Side note: It's also very common for person's with Spina Bifida, like my son, to struggle with UTI's so this could be helpful there as well. The Urinary Tract+ is formulated specifically for women who want to promote urinary tract health and digestive balance. It contains Organic Pacran cranberry which is certified organic and utilizes a process that uses the whole fruit of the cranberry.
Dr. Formulated Prostate+ Probiotic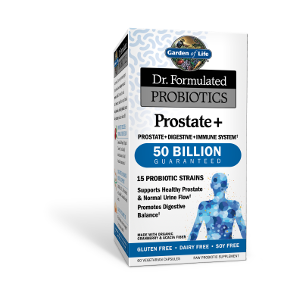 We can't leave out the guys.
Side note: I have a family member who's always telling my teenage family member things that are good for their prostate. Uh yeah. Moving right along …
This formula is designed to support prostate health along with digestive health. The Prostate+ is forumuated with Organic Flowens which has been clinically shown to support normal urine flow. As with the rest it is also vegetarian, gluten, dairy and soy free.
Dr. Formulated Once Daily & Once Daily Ultra Probiotics
The Once Daily and Once Daily Ultra are very similar.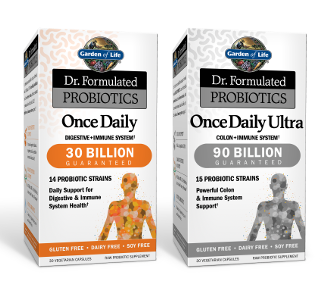 The Once Daily supports digestive and immune health, is vegetarian, gluten, dairy and soy free, and promotes regularity while helping to relieve occasional discomfort. The Once Daily Ultra does all those things but is a higher potency formulation with an extra probiotic strain (15 to the Once Daily's 14) and 60 Billion CFUs (Colony Forming Units = active bacteria per gram of product that makes it to your intestines alive and able to form a colony of good guys).
Dr. Formulated Organic Kids+ Probiotics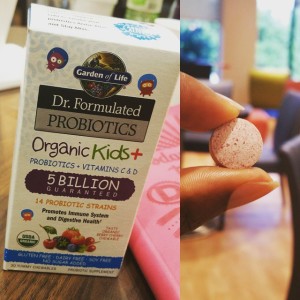 This one really excites me! It's chewable, USDA Certified Organic and also contains C & D. YAY! I tasted it back in May and even brought some home with me. They're about the size of a dime, taste like berries, slightly bitter at first then slightly sweet … kinda like a Sweet Tart but there is no sweetener in the product at all. Most impotantly for me they dissolve almost immediately in water so I was able to give them to my son who has sensory issues and would not be willing to chew the tablet up just yet. I may purchase the Organic Kids+ for him as well since, as I mentioned above, Spina Bifida can affect the urinary and digestive system in unique ways so I'm happy there's a whole food product on that market that promotes wellness in that area for kids.
Dr. Formulated Organic Digest Chewable Enzymes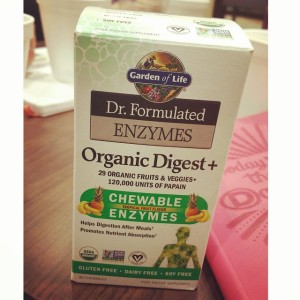 This is another one I sampled in May. Digestive enzymes help your body digest food and absorb nutrients. I've learned a lot in the past few years about consumption versus absorption of nutrients, a lesson I wish I'd known before I had my son honestly. The Organic Digest+ is chewable and tastes like pineapples and bananas. It's designed to eat after a meal and are the first and only Certified USDA Organic and Non-GMO Project Verified full-spectrum digestive enzyme on the market. It's Vegan Certified, gluten, dairy and soy free.
Dr. Formulated Organic Fiber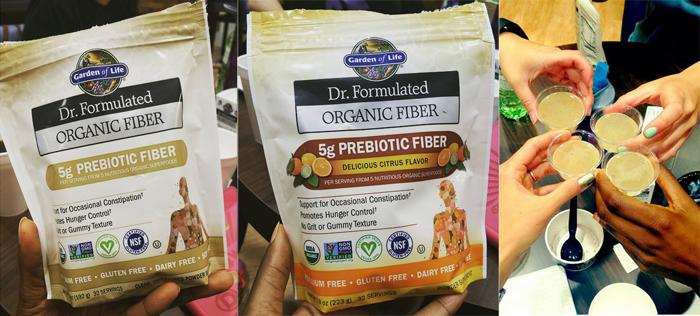 This prebiotic fiber is created from Organic Acacia, Organic Orange Peel, Organic Boabab Fruit, Organic Apple Peel and Organic Cranbery Fruit. Fiber is intergral in supporting the growth of good bacteria in the digestive tract as well as aiding in elimination and maintaining healthy blood sugar. This fiber is Certified USDA Organic, Non-GMO Project Verified, Vegan, Gluten Free, Kosher Certified, psyllium, dairy, soy and sugar free. I tasted both the unflavored and citrus in May. The unflavored in water tasted like water and nothing else. The citrus flavor in water tasted like a drinkable light citrus flavor. The both would be great alone or mixed in other liquids.
—
So clearly I'm super excited about all these products. And guess what?
I have a giveaway!
Five (5) lucky winners will receive one (1) of the products from the new Garden of Life Dr. Formulated line of digestive health products!!!
AWWWWYEEAAAAH!!!




Enter below & good luck!
a Rafflecopter giveaway

Statements in this blog post have not been evaluated by the Food and Drug Administration. These products are not intended to diagnose, treat, cure or prevent any disease. #disclaimerlife