I recently went on a cruise for my 40th brithday and thought I'd share some of my favorite things from that trip!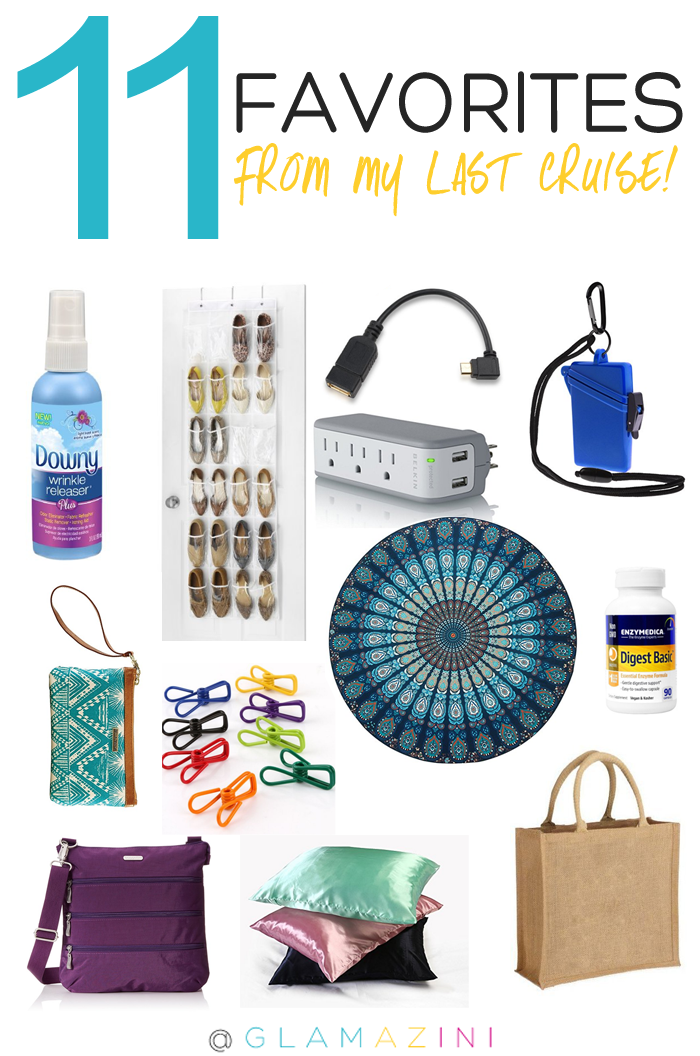 Wrinkle Release Spray – Yeah so … about that iron on the cruise … depending on the cruise line there may not be one. I sailed Royal Caribbean and no irons were present nor are you allowed to bring your own sooooo you either need to pack all wrinkle-free clothing, budget to send your clothes to the laundry (like I did with a couple dinner outfits), or pack a wrinkle release spray you can use in your room to relax those wrinkles in your clothes and keep it pushing. Nowadays they done got fancy and have the wrinkle release PLUS odor eliminator spray so you kill two birds with one stone.
Over Door Shoe Organizer – I always pack one of these when I cruise and it really helps in the tiny cruise stateroom, especially with bathroom stuff. I toss it on the bathroom door and have more than enough storage for all the little knick-knacks you need to put somewhere.
Large Jute Bag – This year one of the sponsors gifted everyone with a large jute beach bag and it changed my life. I love that thing and used it almost every day, ESPECIALLY when I was going to the beach or pool. The one I have is waterproofed on the inside so you can wipe it clean.
Wristlet or Crossbody Bag – Do you see a theme here? Many of my favs were all about making storing and carrying items easier. The next two are no exception. I ran over to Charming Charlie and purchased the brightest color wristlet I could find and I l.o.v.e.d. it! It was my go-to purse when I was just strolling around the ship, it acted as my wallet when I was using any larger bag, and it made a great and easy dinner clutch as well. Don't know how I traveled without it before. Be sure you find one that fits your phone if you plan and using it during the cruise.
Water Wallet – Yet another item for carrying things but you will thank me for this one later. I have several water wallets so, as I always do, I traveled with one for me and one for my roommate and she loved it! Here's the thing … when you get off the ship in a strange country and want to relax in the water at the beach or pool you are met with the dilemma of what to do with your ID, cruise ship card, and money. Here's where the water wallet saves the day! You don't have to hide them in your very obvious bag, roll them in your towel, or bury them in the sand and hope no one was looking, you can just stick them in the water-tight wallet and wear them around your neck into the water and have peace of mind.
Round Towel – Confession: I didn't have one of these on the cruise nor did I see one while on the cruise but I want one … I mean look how cool!
Digestive Enzymes – Another confession: I packed like 7 different types of pills for this trip and they all had to do with digestion lol! My stomach plays no games and I, in turn, plays no game with my stomach. But here's the thing … I'm on a cruise … and even though the best me eats lactose and gluten free, the cruise-celebrating-her-birthday-me wanted to eat all the lactose, gluten and sugar with as little consequence as possible. So I brought Enzymedica – Digest Basic, Essential, Full Spectrum Digestive Enzymes with me, ate what I wanted to, and lived to tell the tale. Boop.
Satin Pillow Case – Once again I didn't do this but my roommate did. BRILLIANT! Grab an affordable satin pillowcase and take it with you. No need for your hair to dry out while vacationing and we all know we should sleep on satin and not cotton to retain the moisture in our hair. We know that right?
Clothes Pins – Used these to dry things in my bathroom, hang things in my room, dry things on the lounge chairs on my balcony, clip my towel to the lounge chair so it wouldn't keep sliding down, so many uses so little cruise.
Small Travel Power Strip – There's one electrical outlet in your cabin. Need I say more?
Micro USB On The Go Cable – This tiny affordable cable eliminated the need for me to travel with my laptop! I used it to save photos and videos onto a jump drive ever night. Get into it.
WHAT ARE YOUR FAVORITE ITEMS FROM YOUR CRUISE?
If you enjoyed this list don't miss my PACKING LIST + PRINTABLE FOR A CARIBBEAN CRUISE!